The response to our new and unique recycled cartridge paper - Flat White has been amazing with overwhelming positive reviews. Fresh to the market this paper utilises recycled pulp generated from coffee cup waste. Being composed of 50% coffee cup material and 50% mill waste how does this cartridge paper perform ?
WHAT IS CARTRIDGE PAPER?
Cartridge paper is a high quality and more refined surface mainly used for general artistic activities. Available in a variety of textures; shades and weights, it is ideal for dry based media applications making it the top choice for sketchbooks. As a versatile surface cartridge paper will accept a wide range of medias, however is it not the perfect choice for all of them. Speciality papers are tailored made to suit specific types of medias.
DRY BASED MEDIA
(Graphite stick and coloured pencil used in video)
Cartridge is more comfortable when being used with dry based media and FLAT WHITE is no different.
The mid-tooth (textured) surface helps retain graphite based products
FLAT WHITE being an off-white colour provides a base tone when drawing, helping to create bright white highlights as well as deep shading
You can easily build layers of shading achieving real dark darks. Although being a recycled paper the surface tends to be slightly less resistant to heavy erasing - especially when compared to our Studio (virgin) paper.
TIP! When doing a drawing start with a light sketch and build areas of shading gradually. This will help avoid mistakes and heavy rubbing out
WATER BASED MEDIA
(Watercolour used in the video)
Untreated paper will accept liquid media acting like a blotting paper. Any moisture penetration will affect a papers structure causing the fibres to swell and move, when the paper then dries this results in distortion and buckling. To help this, papers are traditionally sized (treated) to reduce there absorbency, they will either be sized internally (directly mixed with the pulp during making) or externally (after the sheets have been formed) like FLAT WHITE.
Whilst versatile in usages most cartridge papers are not designed to withstand heavy wet applications are their sizing applications are too limited and/or their composition to weak to resist structural change. If you work in loose sheets or sketchbooks rather than producing final wet media artworks then this really isn't a problem. If you are using heavy wet base mediums then more specialist materials should be used.
Flat White can take light wet based applications such as light watercolours and water soluble pencils
Buckling and twisting will occur with heavier wet application - you can see in the video the paper lifting with the first application
When working with the dry on dry technique there is no or little buckling in the paper, by working this way you can also achieve nice brush strokes and textures.
TIP! To help counter the paper buckling or twisting you can use a simple technique call 'Stretching'. This technique involves wetting the paper fully and securing to a board with gum tape this helps limit buckling and twisting of the paper when applying wet medias.
Wet based solvent media (oils)
Again cartridge paper generally has only limited preparation to accept oil based products. Solvents will naturally attack the surface of the paper and the construction isn't designed to deal with heavier demands place on it. Nevertheless cartridge can be used as a vehicle for oil based studies and roughs but is generally not suitable for finished artwork.
Again the external sizing which FLAT WHITE has enables it to accept might solvent based applications
Oil pastels can be used, along with turps/white spirit - used to spread and blend oil pastels
Wet stretching across a board will again help
SOFT BASED MEDIA
(Soft pastels used in the video)
Softer materials require the surface to be rougher in texture to grab and retain pigment on the surface - with smoother papers pigment will slide across the papers surface and smudge. Pastel papers are the perfect choice for softer medias, however the toothier the cartridge the more likely it will work well with these mediums.
The mid tooth of FLAT WHITE holds soft pastels well, providing enough texture to draw pigment from the pastel
Colours are easily blended and a range of marks and textures can be made
Always remember to regularly use fixative spray to protect your work - Ghaint Fixative
TIP! For more texture and greater fiction you can use a fine grade sandpaper to 'gently' roughen the surface
MARKER PENS & FINELINERS
These materials have a slight wet component with can lead them to bleed into paper. Their tips are often quite precise and therefore do not respond particularly well to surface variations (textures). Marker pens with super smooth surfaces such as the Artway graphic Pad are specially designed for markers/finerliners. Cartridge paper can be used with markers/finerliners with varied success, dependent upon its surface texture and resistance. This type of media will wear out quickly (the papers surface will draw out the pigment quicker) and breakdown (the surface will damage the nibs)
Fineliners (with small nibs) perform considerably better with FLAT WHITE cartridge with only limited dragging and feathering
The mid-tooth nature of FLAT WHITE means that there is some resistance and dragging when using thick marker pens.
Minor bleeding through to the other side of the paper
Marker pens will not blend due to the tooth and absorbency of the paper
Markers and finerliners are best used with FLAT WHITE for initial ideas and roughs rather than finished artwork
Overall FLAT WHITE is a great quality drawing cartridge paper ideal for dry based active and versatile when used as a creative ground for experimental activities with other mediums. Its a unique composition and eco credentials are second to none - what's not to like!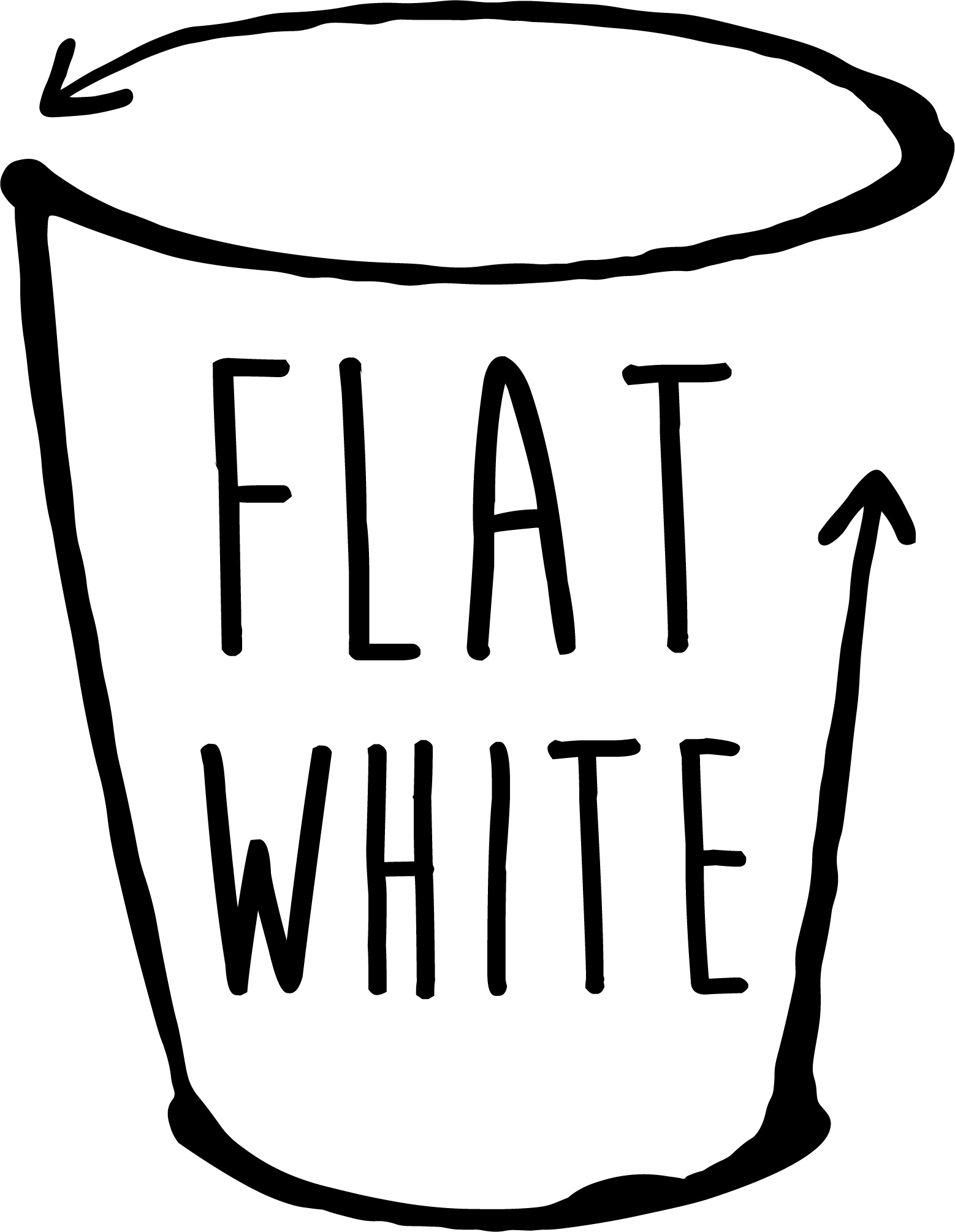 Artway Flat White - 100% recycled cartridge paper, 50% coffee cup waste
Caran D'ache Water Soluble colour Pencils
Winsor & Newton Promarker - Black and Blender